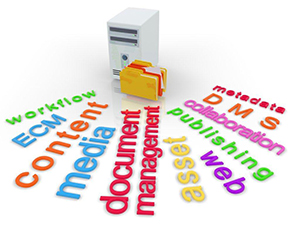 Are you losing control of your business records.
You know that your organisation depends on having easy access to information. You know that decisions are made easier and correctly when information is available. You know that information given to the right people empowers your organisation. You know your operations are easier and more efficient when accompanied by the right information.
So, how is your organisation managing this information. Can you locate the information you need easily when you need it? Can you trust that documents are in the right hands, when they need it? Are you able to categorise and search for documents any way you like? Are you managing documents from all sources - individual workstations and laptops, smart phones and tablets, emails, network drives, CDs, fax machines, filing cabinets and web sites? Are you complying to legal and governance requirements when handling, storing and retrieving documents?
You need a Document Management System.
A properly implemented document management system can help your organisation install proper workflow processes to create, modify, retrieve, review, share, approve and search documents. A document management system will help in the following areas:
Version Control more...
A well implemented document management system retains all versions of documents, and allows you to easily retrieve the version you want, compare versions, and even maintain multiple copies of a single version, for example for documents published in multiple languages.
Document Review and Approval more...
A document management system will allow you to attach workflows, including approval and review, allowing your teams to collaborate and be more effective. Workflows allow you to attach feedback, discussion and decisions to documents, transforming documents from simple files to becoming a part of your operations.
Access Control and Security more...
Sometimes you need to control who has access to information and when. A document management system can easily provide granular access, even limiting read and write access to individual and groups, and integrate into your existing authentication platforms like active directory to provide real time control to documents.
Alerts and Notification more...
In addition to storing documents efficiently, a document management systems will be able to alert you when new documents arrive, for example a fax comes in; or a document is updated or approved; and will kick off alerts and tasks to start processing of the document immediately.
Records Management and File Plan Implementation more...
Good governance practices and legislation will require documents to be retained, archived or destroyed after prescribed time periods. Design of your file plans are easy, but implementation can prove to be a nightmare for your operational staff. A well implemented document management system will help you automate your file plan, seek approval for pending steps if required, and provide you detailed reports on pending or executed steps, so that you achieve compliance with legislation or localised rules.
Searching and Indexing more...
How much of time do you spend looking for documents. A document management system dramatically reduces the time and effort required in searching for documents. Document Management System allow you to capture additional data like document creation and update dates, authors, owners, keywords, description, and even custom data like project reference or invoice number, and provides a powerful search engine to search documents quickly and accurately using the additional data and document text.
Document Backup and Recovery more...
Document management systems provide an easy way to back up documents in a centralised repository rather than having documents scattered on individual user's laptops, workstations, shared drives, emails, and filing cabinets. Documents won;t be lost and recovery is simple and can be rolled back to a specific date and time.
Collaboration more...
Documents don't merely exist in an organisation by themselves - they are often reflection of a sequence of requests, discussions, reviews, approvals, updates, classifications and other actions. However, the results of these actions are often unknown to the reader. A document management system allow multiple users to collectively work on the same document, retaining multiple versions and providing a platform to collaborate, while capturing the actions and events that reflect the true history of the document.
Request more Information
If you require more information on our Data Management services, provide your details below, and we will get in touch with you.